Baby Elephant Dasha Amigurumi Free Pattern
I continue to bring you Amigurumi free patterns. In this article, baby elephant dasha amigurumi free pattern is waiting for you.
Level: Intermediate. MK does not contain knitting lessons.
Abbreviations
CH chain
INC-increase
DEC- decrease
SL-ST slip stitch
Sc- single crochet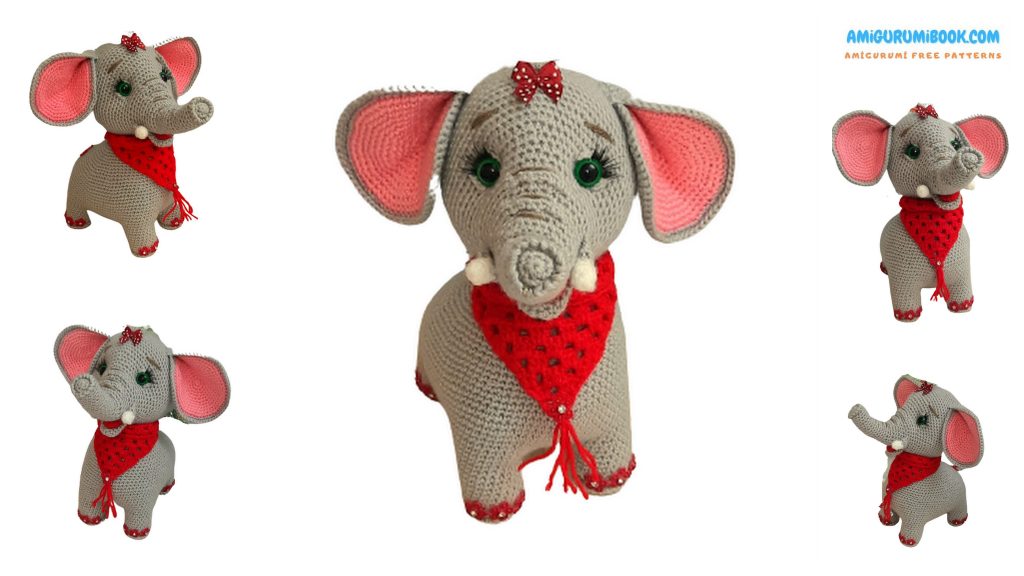 PATTERN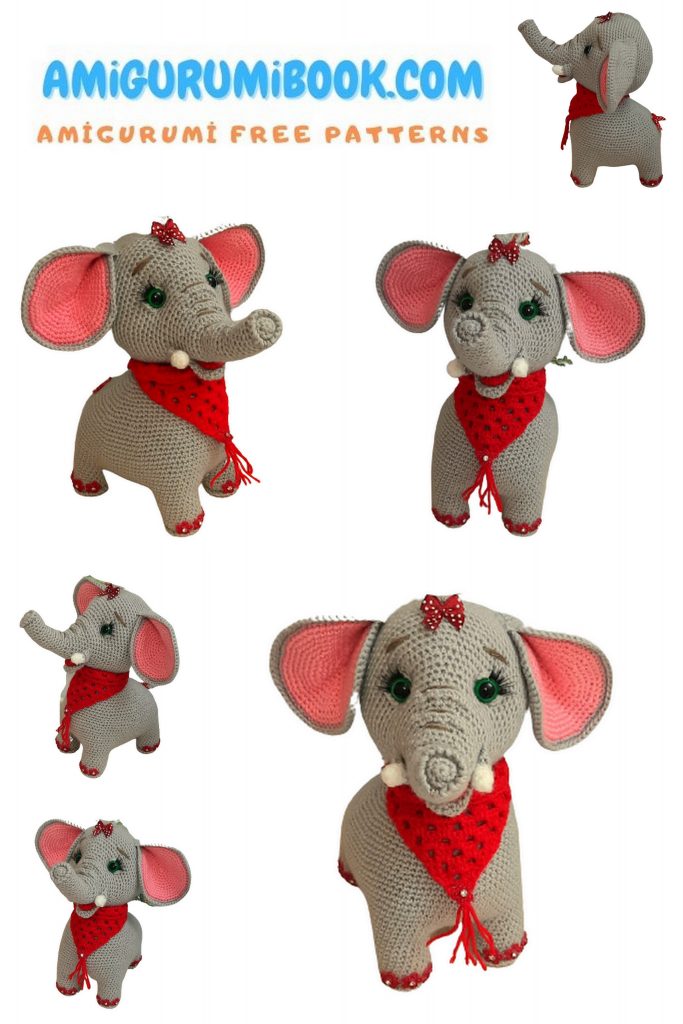 LEGS 4pcs.
1p-7sc into magic ring
2p-7inc (14)
3p-1sc inc7time(21)
4p-behind the back wall of the loop 21sc
5p-11p-21sc without change 7 rows. thread cut
After the legs are tied, tie the front
loops 4 rows with a crustacean step
TUMMY
Cast on a chain of 6 air loops, from the second loop from the hook
1p-4stb. 3sc. in one loop, on the other side 3sc inc(12)
2p-inc3sc.inc3 times, 3sc inc2 times(18)
3p-1sc.inc3sc,(1sc.inc)3 times, 3sc.(1sc.inc)2 times(24)
4p-2sc.inc3sc,(2sc.inc)3 times, 3sc,(2sc.inc)2 times(30)
5p-3sc.inc3sc, (3sc.inc) 3 times, 3sc, (3sc.inc) 2 times (36)
6p-4sc.inc3sc, (4sc.inc) 3 times, 3sc, (4sc.inc) 2 times (42)
7p-5sc.inc3sc, (5sc.inc) 3 times, 3sc, (5sc.inc) 2 times (48)
WE DO NOT CUT THE THREAD, WE WILL ATTACH THE LEGS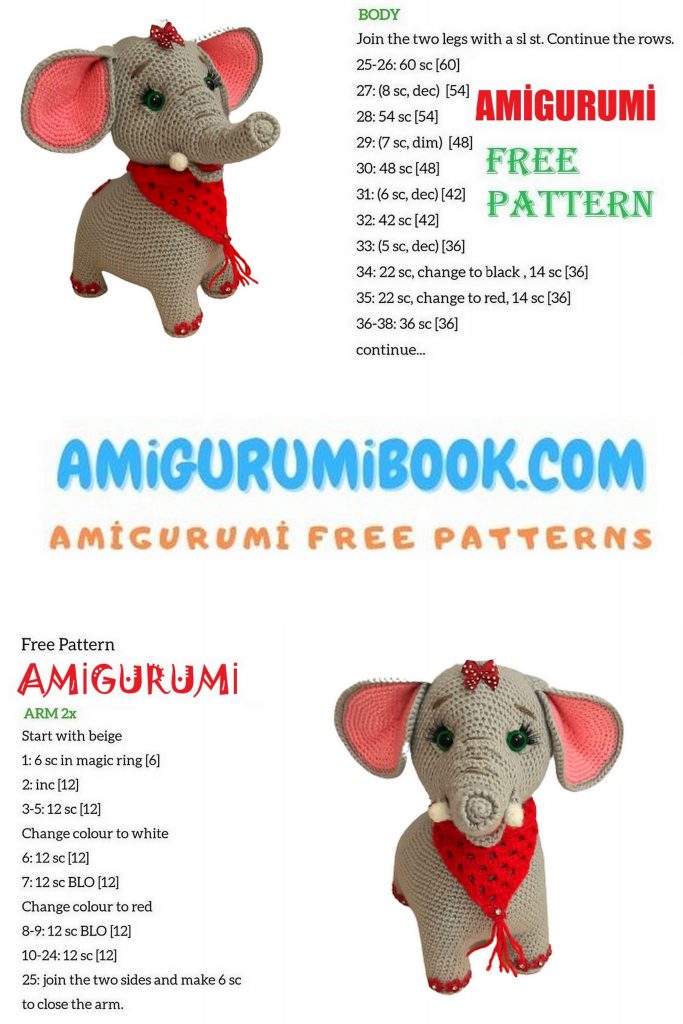 BODY
Marker front
1 row-2sc on the body, 5sc together with 1 leg
9sc on the body, 5sc with 2 legs
4sc body, 5sc with 3 legs
9sc body, 5sc with 4 legs
4sc on the body
2p-2sc on the body 18sc on the leg, 9sc on the body, 18sc on the leg
4sc body, 18 leg, 9sc body. 18 leg, 4sc body(100)
3p-12p- 100sc no change 10 rows
13p-dec14sc.dec14sc.dec14sc.dec3sc.dec14sc.dec14sc.dec13sc(93)
14-15r-no change 93sc 2 rows
16p-(14sc.dec)5 times13sc(88)
17p-30sc.(dec6sc)5 times18sc(83)
18p-83sc no change
Body
19p-30sc(dec5sc)5 times dec16sc(77)
20p-77sc no change
21p-25sc(dec4sc)6 times16sc(71)
22p-71sc no change
23p-25sc(dec 3sc)6 times16sc(65)
24p-65sc no change
25p-25sc(dec2sc)6times16sc
26p-25sc(dec2sc)6times16sc
27r-25sc (6dec)16sc
28р-25sc.2psc.2dec psc, 2psc, 13sc
29p-10sc.dec10sc.dec psc.2psc.3sc together.2psc.dec psc.11sc
30p-20dec (20)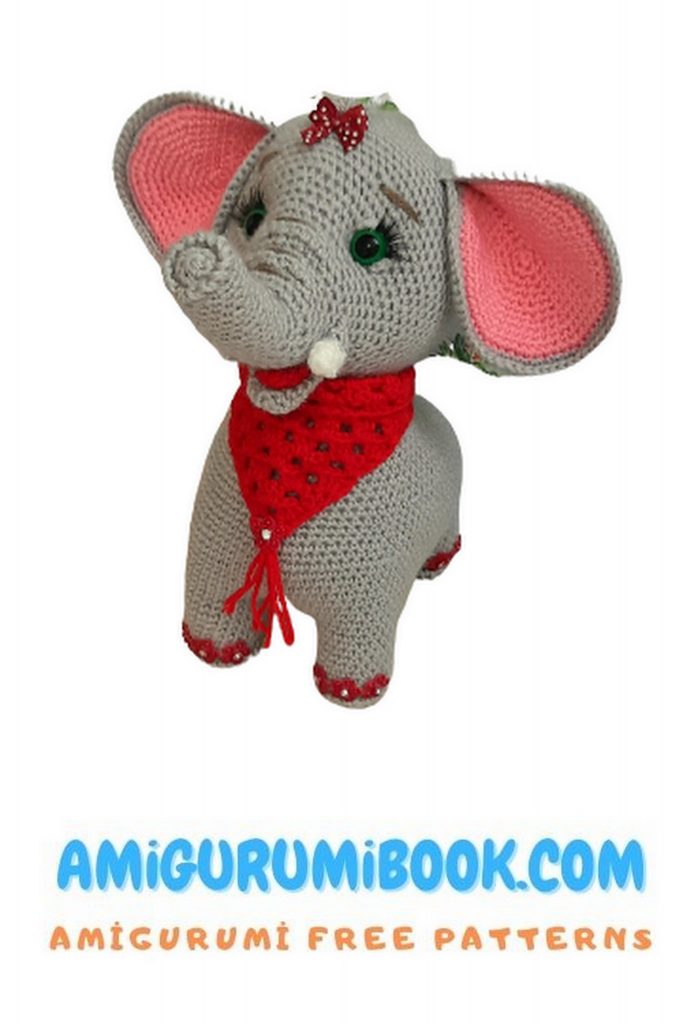 HEAD
1p-6 into magic ring
2p-6inc(12)
3p-(1sc inc) 6 times(18)
4p-behind the back wall of the loop 18sc
5r-16r-no change 12 rows (18)
17r-(8sc inc) 2 times
18r-(9sc inc) 2 times crease
19p-(10sc inc)2 times(24)
20-21r- 24sc unchanged 2 rows
22r-(3sc inc) 6 times(30)
23r-24r-30sc unchanged 2 rows
25p-9incpsc.21sc (39)
26p-3sc. inc3sc.27sc(42) stride step
27r-(6sc.inc)6 times(48)
28r-(7sc.inc )6times(54)
HEAD
29r-(8sc.inc) 6 times (60) TIE THE FRONT LOOP
30r-(9sc.inc)6 times(66) 4 ROW
31r-40r-no change 66sc 10 rows EYES TRY ON AND GLUE
41р-(9sc dec).6times(60) POSSIBLE WITH EYELASHES, POSSIBLE WITHOUT
42p-unchanged60sc ON THE TRUNK THROUGH THE ROW I STITCH A LITTLE
43p-(8sc.dec) 6 times (54) TO GET A FOLD,
44p-No change 54sc ONLY 2.3 PLASES AS YOU LIKE,
45p-(7sc.dec)6 times (48) POSSIBLE WITHOUT WRINKLES AT ALL
46r-(6sc dec) 6 times (42) LOOKING PHOTO
47r-(5sc.dec)6 times (36)
48r-(4sc dec) 6 times (30)
49p-(3sc.dec)6 times (24)
50r-(2sc.dec)6 times (18)
51p-(1sc.dec)6 times (12)
52p-6dec Thread cut hole pull thread hide
EARS
4DETAIL
2 pink 2 gray parts
exactly the same 4 parts
1p 6 into magic ring
2p 6inc
3p 1sc inc 6 times
4p 2sc inc 6 times
5p 3sc inc 6 times
6p 4sc inc 6 times
7p 5sc inc 6 times
8p 6sc inc 6 times
9p 7sc inc 6 times
10r 8sc inc6 times
AT THE PINK THREADS WE CUT AT THE GRAY NO, CONTINUE TO KNIT
GREENING DETAIL. PINK AND GRAY
TWO PARTS WE FOLD TOGETHER WITHOUT INTERNAL AND KNIT TOGETHER
9SC INC 6 TIMES FOLD AGAIN IN HALF AND KNIT 4SC
THREAD CUT LEAVING A LONG END FOR SEWING
ROTICK
TAIL WITH RED YARN TAIL
1P-6 into magic ring ch Turn 1p-6 into magic ring 1P-20CH
2P-6incch turn BACK ON THE CHAIN
3p-1sc inc6 times(18) 19sc
Cut the thread MAKE A BRUSH
ASSEMBLY
IF THE HOLE ON THE BODY IS NOT SUITABLE FOR YOU, YOU CAN SEW IT
I SEWED A SEVERAL LOOPS. I PLACED A HEAD ON TOP.
SUSTAINABILITY AND HEAD
Scarf-bactus
any color
chain 3 to second from hook in dc 2 chain turn
In the first loop, 3dc, air loop, in the last 3dc. 2ch turn
To the first 3dc, ch to the arch 3dc, ch .to the last 3dc.2ch turn
And so on to the desired length in the first in the arches and in the last do not forget to make air loops after
every 3dc