Cute Hello Kitty Amigurumi Free Pattern
I continue to share amigurumi free patterns. In this article, cute hello kitty amigurumi free pattern is waiting for you.
Abbreviations
sc: single crochet
inc: increase
dec: decrease
dc: double crochet
ch: chain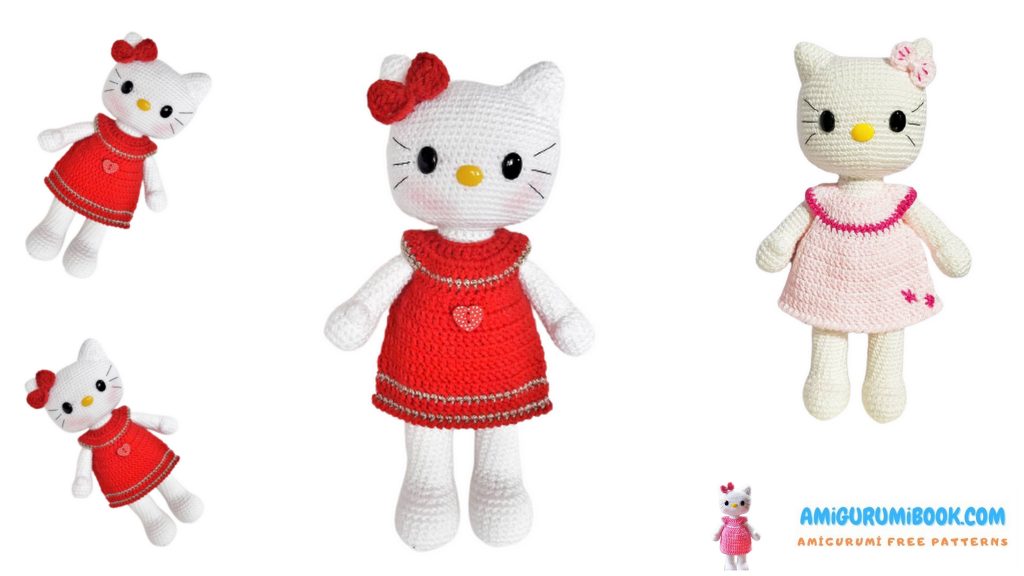 PATTERN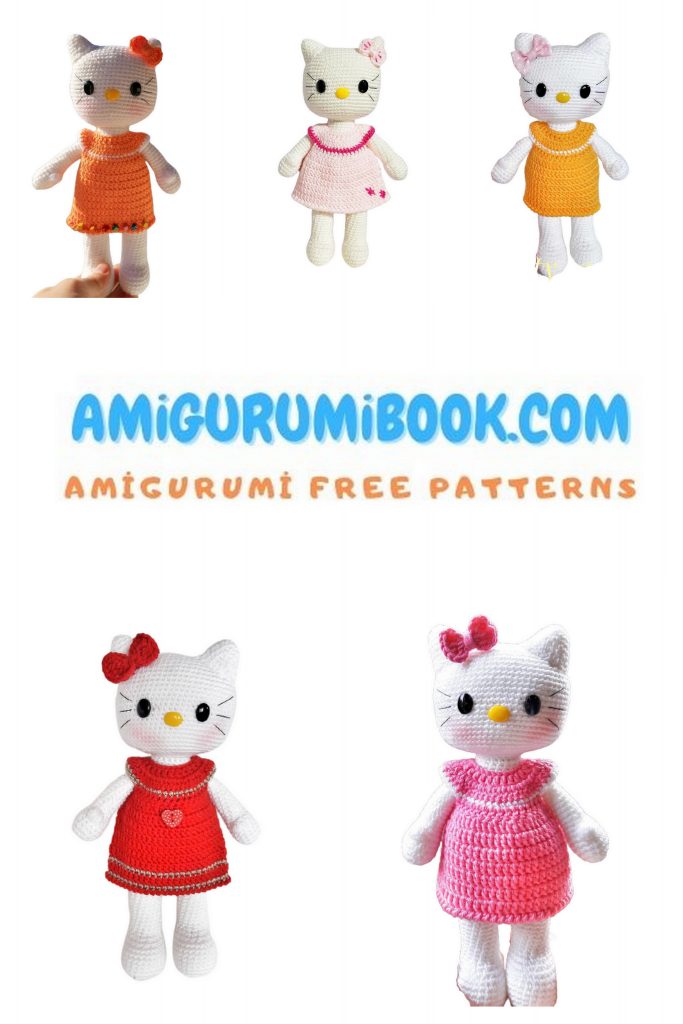 Head
with white thread;
1) 11 ch check back
2) 9sc 1sc to 3sc multiple sc1inc = 22sc
3)1inc 8sc3inc 8sc2inc = 28 sc
4)1sc1inc 9sc1inc 1sc1inc 1 sc 1inc 9sc1inc 1sc1inc=34sc
5)2sc1inc 10sc1inc 2sc1inc 2sc1inc 10sc1inc 2sc1inc=40sc
6) 3sc1inc 11sc1inc 3sc1inc 3sc1inc 11 sc1inc 3sc1inc=46sc
7) 4sc1inc 12sc1inc 4sc1inc 4sc1inc 12sc1inc 4sc1inc=52sc
8) 5sc1inc 13sc1inc 5sc1inc 5sc1inc 13sc1inc 5sc1inc=58sc
9-21) 58sc
22)1dec13sc 1dec5sc 1dec5sc 1dec13sc 1dec5sc 1dec5sc=52sc
23)1dec12sc 1dec4sc 1dec4sc 1dec12sc 1dec4sc 1dec4sc=46sc
24)1dec11 sc 1dec3sc 1dec3sc 1dec11 sc 1dec3sc 1dec3sc=40sc
25)1dec3sc *8 reps =32sc
26)1dec2sc *8 reps =24sc
27)1dec4sc *4 reps =20sc
The eyes will be placed between the 14th row and the 15th row, and the number of visible loops will be 8sc. The nose will also be sewn to the 16 v 17 intermediate vehicle, right in the middle of the two eyes.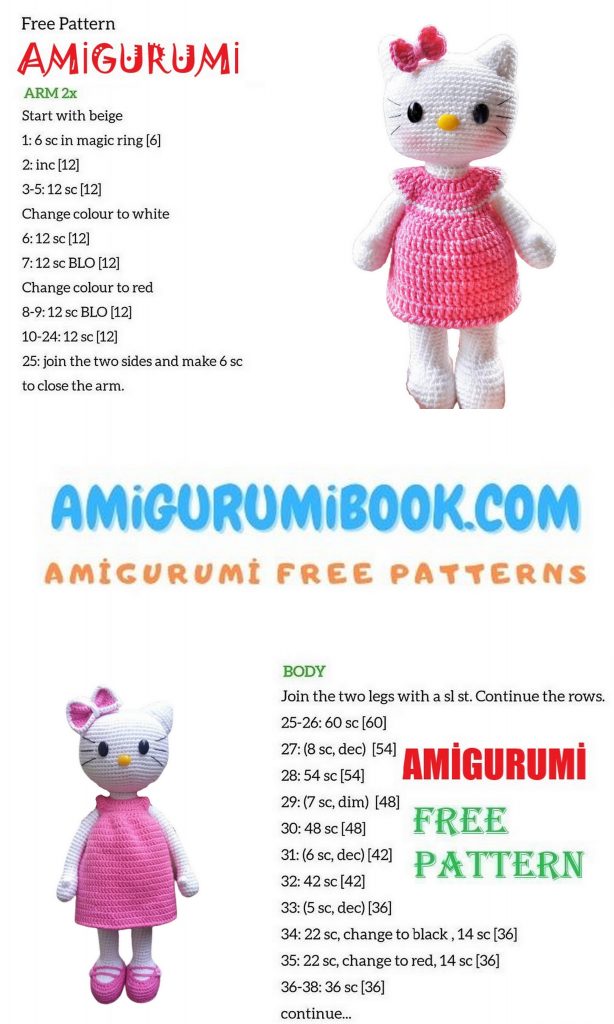 Feet and Body
With white color;
1) pull 7 ch back skip 1 ch starting from the second ch 4sc 1 sc into 3 sc 3sc1inc=12sc we count the first loop, it becomes 13sc.
2)1inc3sc 3inc4sc 2inc=19sc
3)1inc5sc 1inc1sc 1inc1 sc 1inc 5sc1inc 1 sc1inc=25sc
4-7) =25sc
8)Flo 9sc 4dec 9sc =22sc
9) 7sc 4dec 7sc = 18 sc
10) 7sc2dec7sc = 16sc
10th and 30th rows = 16sc
2 will be made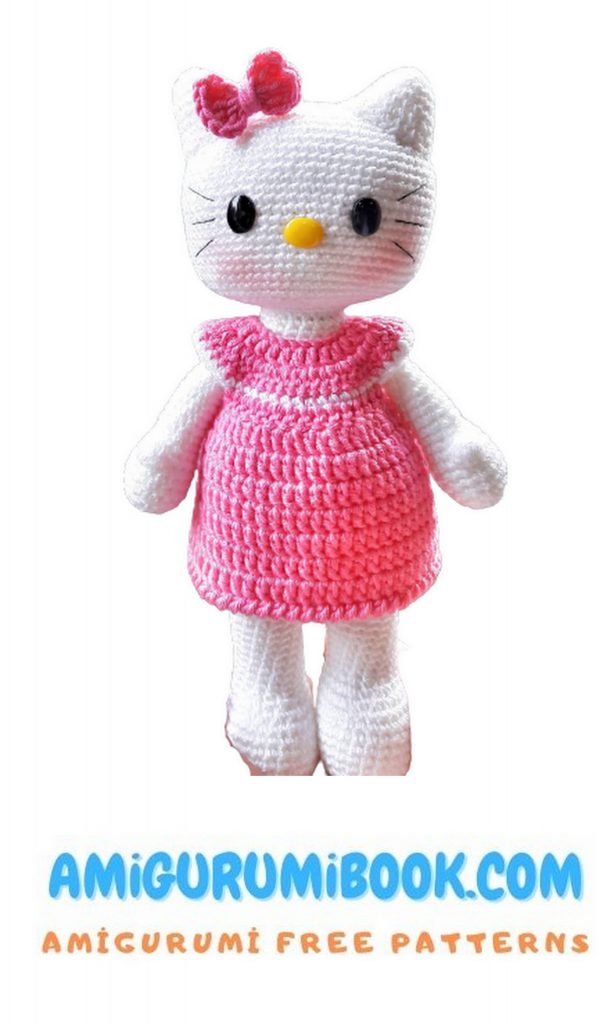 Body
join both legs with 4 ch 16+4+4+16=40sc
40sc in total
Knit 12 rows of 40 sc.
13) 1dec18sc 1dec18sc=38sc
14) 1dec17sc 1dec17sc=36sc
15) 1dec16sc 1dec16sc=34sc
16) 1dec15sc 1dec15sc=32sc
17) 1dec14sc 1dec14sc=30sc
18)1dec13sc 1dec13sc=28sc
19)1dec12sc 1dec12sc=26sc
20)1dec11sc 1dec11sc=24sc
21)1dec10sc 1dec10sc=22sc
22) 1dec9sc 1dec9sc=20sc
knit three rows of 20sc and finish.
Arms
with white thread;
1) 6 magic rings
2) 6inches
3)15sc (3sc1inc*3 reps)
4)15sc
5) 15sc
6)15sc
7) We make quadruple popcorn (make 4 dc in the same loop and collect them all at the same time) + 14sc
8)12sc (3sc1dec*3 reps)
9)10sc (4sc1dec 4sc1dec)
knit 12 rows of 10 sc finish
2 will be made.
Ear
with white thread;
1) 5sc magic ring
2)5inches
3)10sc
4)15sc (1 sc1inc*5 reps)
5) 15sc
6)20sc (2sc1inc*5 reps)
7)22sc (9sc1inc 9sc1inc)
2 will be made.
Dress with the color you want;
Check 38 ch
38 (let's dc into 27 ch) (to make 9 ch stitches)
54 (let's go back and double sink hdc)hdc
Go back, change color, draw 1 ch, make 54 sc.
pull 2 ​​ch back switch back to main color make 8 dc pull 6 ch skip 11 sc make 16 dc pull 6 ch skip 11 sc make 8 dc
2 ch check back, 1hdc has odd, 1hdc has double, we go around the whole row like this, now we continue without going back
Let's knit as much as we want by sinking the whole row into herhdc one by one.
Let's do reverse sc and finish.