Free Amigurumi Cute Baby Deer Pattern for Crochet Enthusiasts
Get your crochet hooks ready! Explore our adorable free amigurumi pattern for a cute baby deer. Follow our step-by-step instructions and create your own lovable deer toy today.
Crochet enthusiasts, gather around! If you're a fan of amigurumi and love crafting cute and cuddly animals, you're in for a treat. In this article, we're excited to share with you a fantastic and free amigurumi pattern for creating the most charming baby deer. Whether you're a seasoned crocheter or just starting out, this pattern is perfect for adding a touch of handmade warmth to your collection of crochet creations.
Our amigurumi baby deer pattern is not only a joy to make but also a delightful gift idea for children and animal lovers of all ages. With a few skeins of yarn, a crochet hook, and a dash of creativity, you'll soon have your own amigurumi deer ready to brighten someone's day.
So, grab your crochet supplies and let's dive into this wonderful amigurumi adventure. Follow our easy-to-understand instructions, and in no time, you'll have a cuddly, lovable baby deer to call your own. Whether you're making it for yourself or to share with loved ones, this amigurumi deer is sure to bring smiles and warmth wherever it goes. Let's get started!
The height of the baby deer with antlers turned out to be 22.5 cm.
MATERIALS FOR MAKING THE TOY:
Plush yarn: HiMALAYA Dolphin Baby, a smaller skein in the main color. Crochet hook: 4-4.5 mm. The yarn number used: 80337.
Inserted or red plush nose.
Yarn for assembly. Vitacoco is used.
Inserted or sewn-on eyes, 0.7 cm in size. White felt for making the white eye highlight.
Yarn Art Jeans for the antlers (color 35).
An iron for assembly, stuffing, row marker, scissors, a lighter for sealing the ends. Crystal Moment glue for attaching the nose.
LIFE HACK!
I recommend sealing the ends of plush yarn with a lighter to prevent it from unraveling.
How to Make a Ring in Plush Yarn for Amigurumi:
Since it's difficult to tighten a ring made with plush yarn, we will make it as follows: Start with two chain stitches, and in the first chain, crochet 6 single crochets, forming a circle of 6 single crochets. Continue crocheting as per the pattern.
A Little Trick:
To make your toy more voluminous and preserve the beauty of the plush yarn, I recommend crocheting "cross stitches" instead of "V stitches." Insert the hook from above for cross stitches and from below for V stitches.
Abbreviations:
sc – single crochet
ch – chain
inc – increase (2 single crochets in one stitch)
dec – decrease (single crochet 2 stitches together)
sl st – slip stitch
hdc – half double crochet
dc – double crochet
tr – treble crochet
st(s) – stitch(es)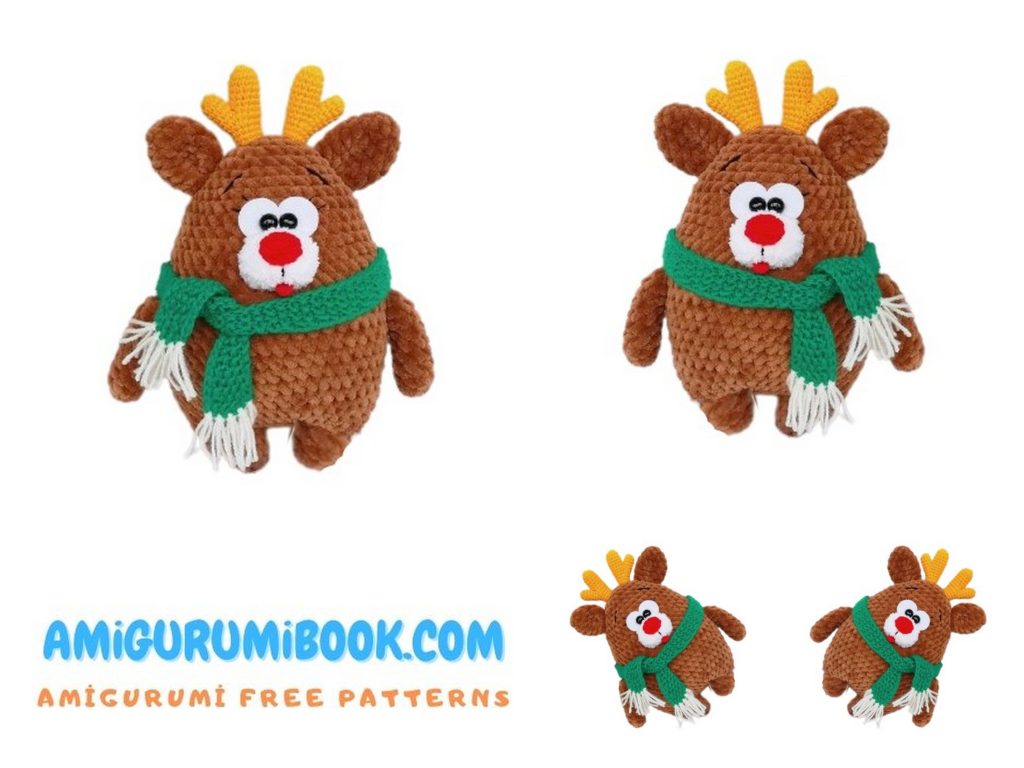 PATTERN
Body:
Working in rounds from top to bottom.
1) Magic ring, 6 sc in the ring. (6)
2) Inc in each st around. (12)
3) (1 sc, inc) repeat 6 times. (18)
4) (2 sc, inc) repeat 6 times. (24)
5) 24 sc
6) (3 sc, inc) repeat 6 times. (30)
7) 30 sc
8) (4 sc, inc) repeat 6 times. (36)
If using inserted eyes: Cut two circles from felt with a diameter of about 1 cm and insert them between rounds 9 and 10. Glue the felt to the body.
9-11) 36 sc for 3 rounds
12) (5 sc, inc) repeat 6 times. (42)
13-14) 42 sc for 2 rounds
15) (6 sc, inc) repeat 6 times. (48)
16-22) 48 sc for 7 rounds
23) (6 sc, dec) repeat 6 times. (42)
24) 42 sc
25) (5 sc, dec) repeat 6 times. (36)
26) (4 sc, dec) repeat 6 times. (30)
27) For the leg, crochet 12 sc, then close it by slip stitching to the first stitch. Continue crocheting the leg in spirals with 12 sc.
28-31) 12 sc for 4 rounds
32) Dec 6 times (6)
Leave a long tail, sew the opening closed, and stuff the leg. Do not sew the hole between the legs closed; it's better to close it with decreases in rounds. I had 6 decreases. Join the yarn to the body and crochet a round of decreases, pulling it tight to close the hole.
Arms:
1) Make 8 chains.
2-9) Crochet 8 single crochets (sc) for 8 rows.
Stuff the arms.
Fold the arm in half and crochet 3 sc through both sides to close.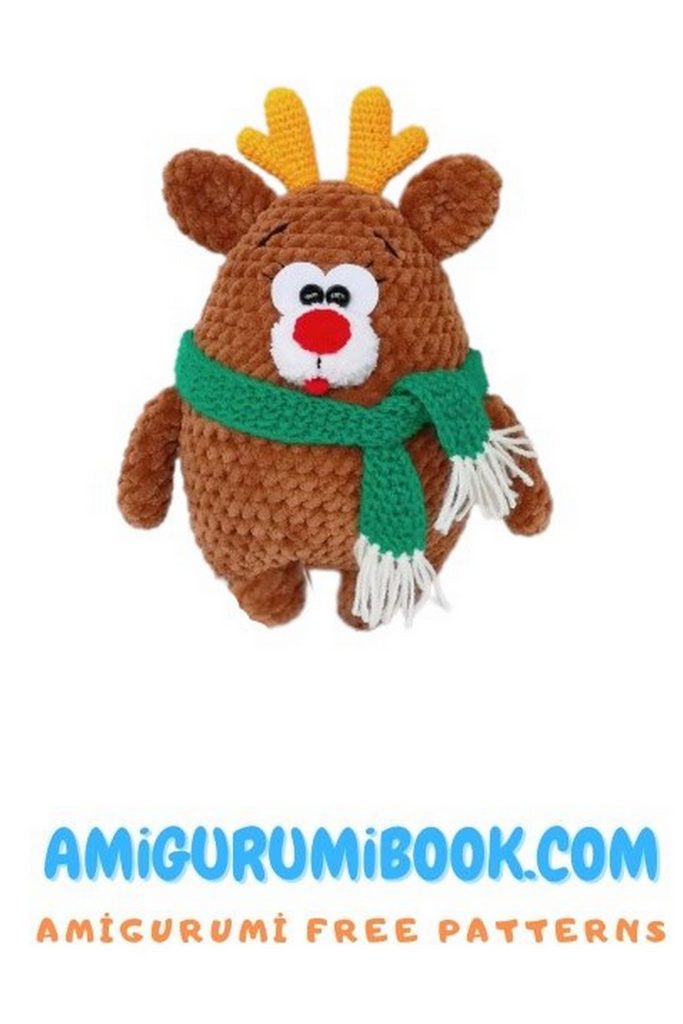 Muzzle:
1) Make a magic ring.
2) Crochet 6 increases (12).
3)Crochet 12 sc. Cut the yarn.
Ears:
1) Make a magic ring. 6sc
2) (1 sc, inc) three times (9).
3) (2 sc, inc) three times (12).
4-6) Crochet 12 sc for 3 rows.
7)(2 sc, dec) three times (9).
Cut the yarn, but leave a 15 cm tail.
Use this tail to cinch the ear together, shaping it into a concave form.
Attach the ears to the body using the remaining yarn tail.
Horns:
Take YarnArt Jeans yarn. I used a 1.5mm crochet hook.
Large Horn:
1) Make 6 chains.
2) Crochet 6 increases (12).
3-7) Crochet 12 single crochets (sc), then cut the yarn.
Small Horn:
1) Make 8 chains.
2-4) Crochet 8 single crochets (sc).
Next, attach the small horn to the large horn and crochet 2 sc through both sides.
5-6) Crochet 16 sc.
7) (2 sc, dec) four times (12).
8-10) Crochet 12 sc for 3 rows, leaving a tail for sewing.
Tail:
1) Make 6 chains.
2) Crochet 6 increases (12).
3) Crochet 6 decreases (6).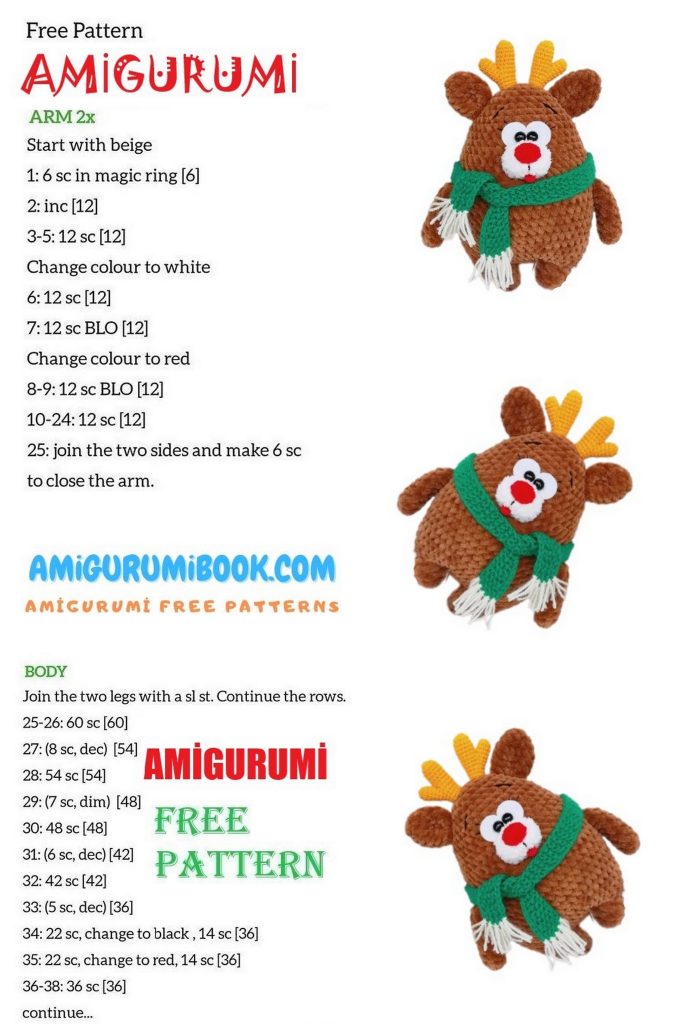 Assembly:
1) Secure the arms to the body using the remaining threads. Attach them between rows 15 and 16, pull the threads to the backside, tie, and hide. Now sew them in place.
2)Attach the ears to the head in the 6th row.
3) Eyes: Cut circles out of felt, approximately the size of a one ruble coin. Insert the sew-on eyes in the 10th row. Glue the felt to the body.
4)Sew the muzzle right under the eyes, inserting the nose. I used a 1.5 cm nose. 5)You can also embroider it with plush thread, about 1.5-2 cm long, as you prefer.
Sew the horns in the 2nd row.
Embroider eyebrows and eyelashes.
The tail in the 20th row.
Scarf can be knitted with knitting needles or crocheted. The number of stitches should be chosen based on the size of your toy.
For knitting with knitting needles, I used YarnArt Jeans yarn, similar to the yarn for the body. I cast on 86 stitches and knitted 6 rows in garter stitch (knit all rows).
For crocheting, I used Himalaya Dolphin Baby yarn. I made a chain of 75 stitches and crocheted 4 rows with single crochet stitches.