Cute Llama Amigurumi Free Pattern
I continue to share amigurumi free patterns. In this article, cute llama amigurumi free pattern is waiting for you.
Abbrevations:
Sc – single crochet
inc – increase
dec – decrease
ch – chain
sl-st – slip stitch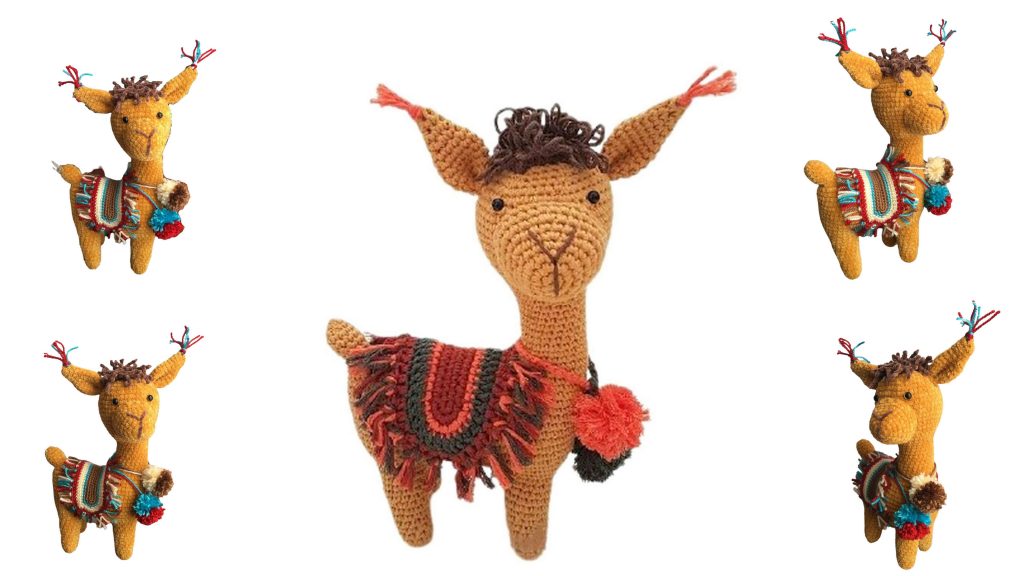 PATTERN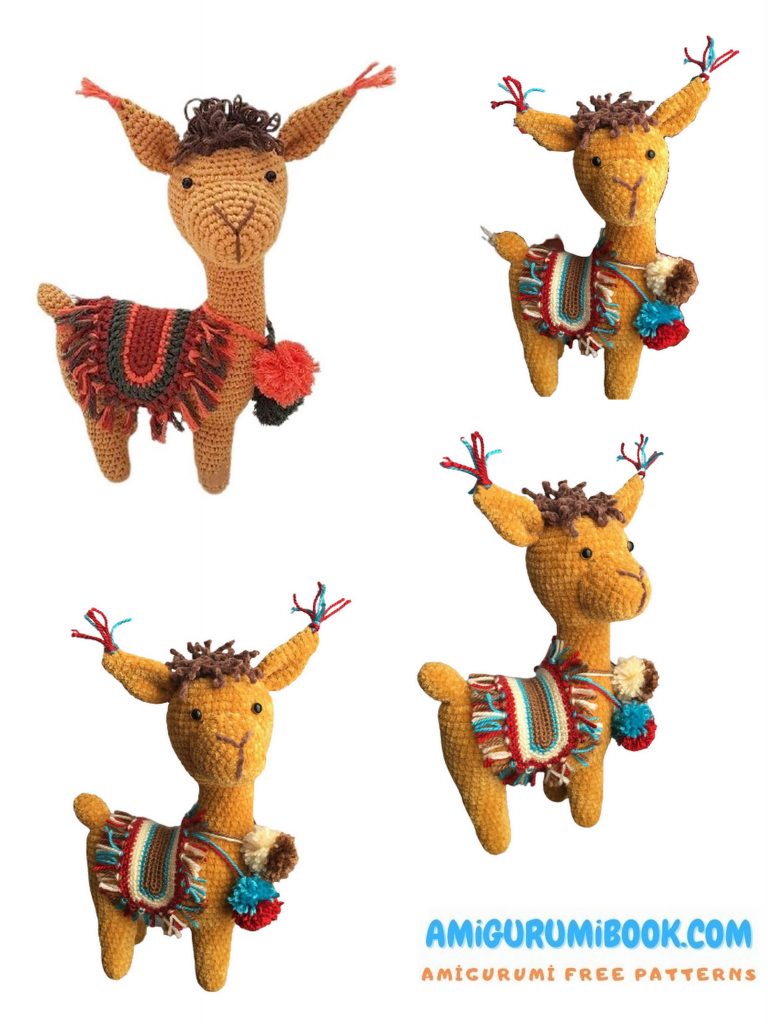 Foot / torso / head
1.5sc
2.5inc = 10sc
2 lines 10sc
5.4sc, inc = 12sc
3 lines 12sc
9.5sc, inc = 14sc
4 lines 14sc
4 pieces knit 2 feet join 5 sc,
connect both remaining legs with 5sc.
We will have two separate parts.
Join feet with 10 ch
14.8sc, 2inc, 8sc, 9 dc on ch, inc, 7sc, 2inc, 7sc, inc, 9 dc
15.60sc
16.9sc, inc = 66sc
17.10sc, inc = 72sc
12 rows 72sc
30.2sc, dec = 52sc
31.10sc, merge 22sl-st with hull opposite, remaining 23sc = 10 rows (neck)
42.22sc, inc = 24sc
43.3sc, inc = 30sc
44.30sc
45.4sc, inc = 36sc
46.36sc
47.5sc, inc = 42sc
48.42sc
49.6sc, inc = 48sc
7 row 48sc
57.6sc, dec = 42sc
58.5sc, dec = 36sc
59.4sc, dec = 30sc
60.3sc, dec = 24sc
61.2sc, dec = 18sc
62.SC, dec = 12sc
63.dec = 6sc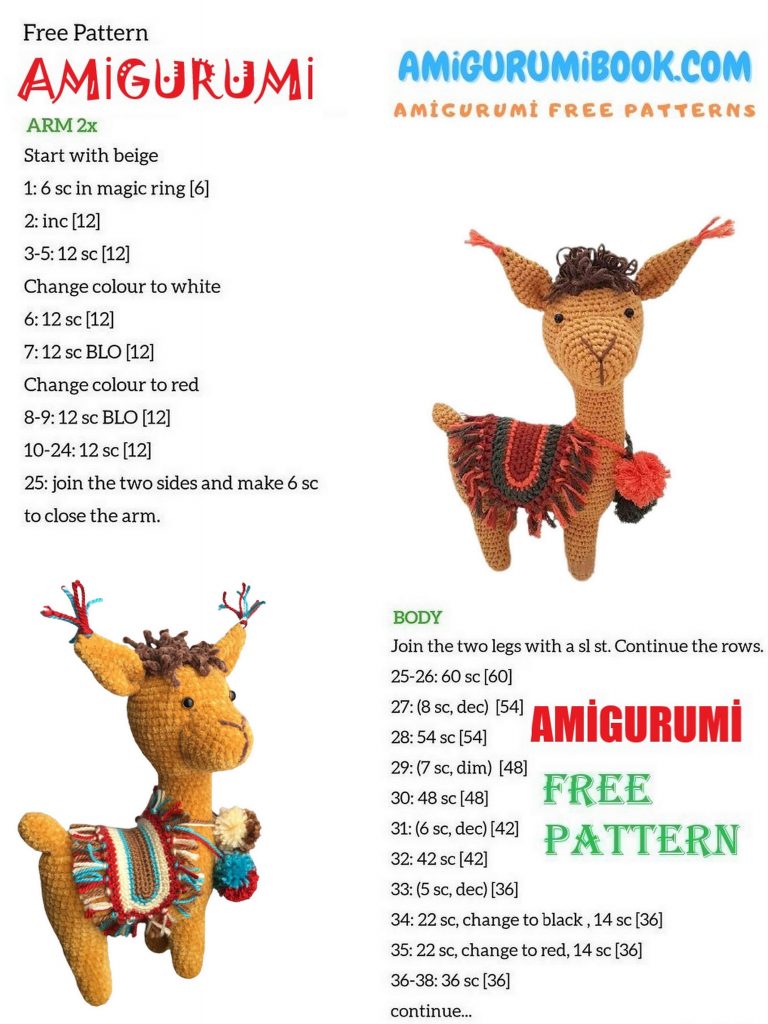 Ear
1.6sc
2.6sc
3.2sc, inc = 8sc
4. 8sc
5.3sc, inc = 10sc
6.4sc, inc = 12sc
7.5sc, inc = 14sc
2 lines 14sc
10.5sc, dec = 12sc
11. 12sc
12.4sc, dec = 10sc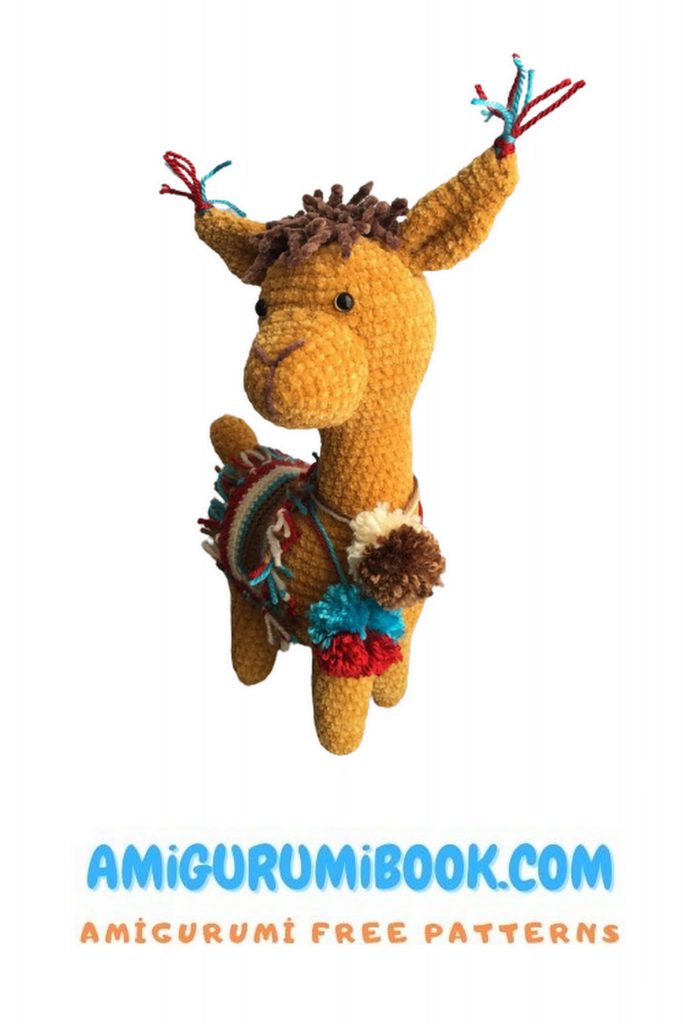 Llama mouth
1.6sc
2.6inc = 12sc
3. SC, inc = 18sc
4.18sc
5.2sc, inc = 24sc
6. 24sc
7.3sc, inc = 30sc
2 lines 30sc
(Eyes 10th Row 10sc apart)
Queue
1.5sc
2.5inc = 10sc
3.4sc, inc = 12sc
2 lines 12sc
6.4sc, dec = 10sc
7.10sc