Blonde Doll Amigurumi Free Pattern
You can access the most beautiful doll patterns only on our website. In this article, we share the blonde doll pattern for you free of charge. All you have to do is review our article.
TERMS USED
ch=chain
dc=double crochet
hdc=half double crochet
rnd= round
sc=single crochet
skp=skip sp=space
sl st=slip stitch
st(s) = stitch (es)
sc2tog = sc 2 together
tc=treble crochet yo=yarn over
dtr=double treble
BLO: back loop only
FLO: front loop only
( ) = repeat between () number of times indicated
MATERIALS
Acrylic yarn (250m/100g) of the following
colors: skin color,white,yellow,light pink,dark pink,grey,cream color
Hook: 3mm,
15 mm eyes
Polyester for staffing
Tapestry needle
Finished size is about 35 cm tall (if using similar yarn).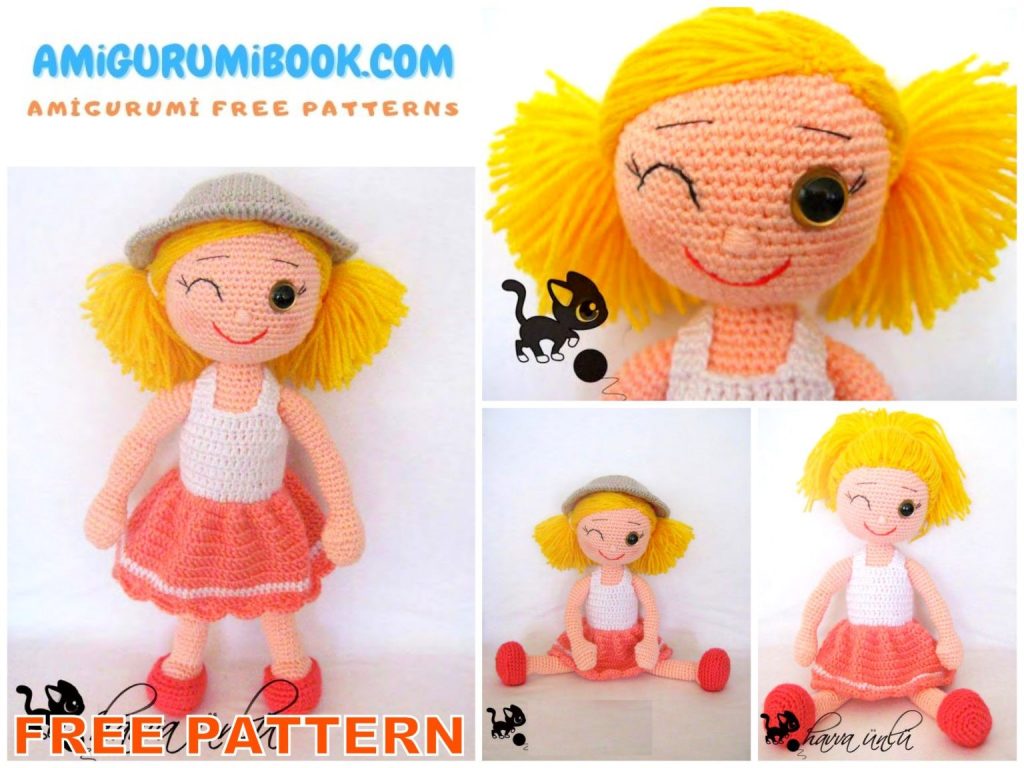 HEAD:
skin color
Round 1: make ch 2, 6sc into second chain from hook (6)
Round 2: 2sc in each st (12)
Round 3: (1sc, 2sc in next st) – 6 times (18)
Round 4: (2sc, 2sc in next st) – 6 times (24)
Round 5: (3sc, 2sc in next st) – 6 times (30)
Round 6: (4sc, 2sc in next st) – 6 times (36)
Round 7: (5sc, 2sc in next st) – 6 times (42)
Round 8: (6sc, 2sc in next st) – 6 times (48)
Round 9: (7sc, 2sc in next st) – 6 times (54)
Round 10: (8sc, 2sc in next st) – 6 times (60)
Rounds 11-22: in each st around (60)
Round 23: (8sc, sc2tog) – 6 times (54)
Round 24: in each st around (54)
Round 25: (7sc, sc2tog) – 6 times (48)
Round 26: (6sc, sc2tog) – 6 times (42)
Round 27: (5sc, sc2tog) – 6 times (36)
between 16-17. rows embed safety eyes
Round 28: (4sc, sc2tog) – 6 times (30)
Round 29: (3sc, sc2tog) – 6 times (24)
Round 30: (2sc, sc2tog) – 6 times (18)
Round 31: (1sc, sc2tog) – 6 times (12)
Round 32: (sc2tog) – 6 times (6)
BODY
cream color
Round 1: make ch 2, 8sc into second chain from hook (8)
Round 2: 2sc in each st (16)
Round 3: (1sc, 2sc in next st) – 8 times (24)
Round 4: (2sc, 2sc in next st) – 8 times (32)
Round 5: (3sc, 2sc in next st) – 8 times (40)
Round 6: (19sc, 2sc in next st) – 2 times (42)
Rounds 7-14: in each st around (42)
skin color
Round 15: (5sc, sc2tog) – 6 times (36)
Rounds 16-25: in each st around (36)
Raund 26: 7sc,(sc2tog) – 2 times,14sc,(sc2tog) – 2times,7sc (32)
Rounds 27-28: in each st around (32)
Raun1d 29: 6sc,(sc2tog) – 2 times,12sc,(sc2tog) – 2times,6sc (28)
Round 30: in each st around (28)
Round 31: (2sc, sc2tog) – 6 times,4sc (22)
Round 32: (1sc, sc2tog) – 6 times,4sc (16)
Rounds 33-34: in each st around (16)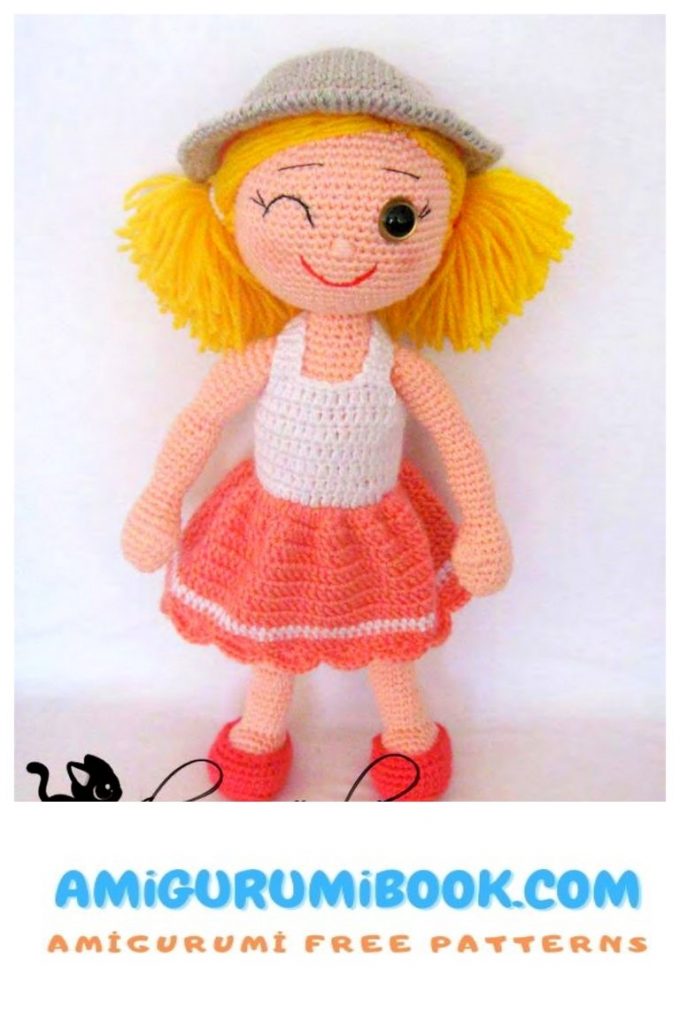 ARMS
skin color
4ch+1ch
Round 1: 3sc in 2nd ch from the hook, (1sc in 1ch) – 2 times,
3sc in next ch, turn the work to continue along the opposite
side of the beginning ch, (1sc in 1ch) – 2 times (10sc)
Round 2: (2sc in each of next 3sc,2sc) araund (16)
Round 3: 3sc,2sc in next st,7sc,2sc in next st,4sc (18)
Round 4: in each st around (18)
Round 5: 3sc,(3sc in next st) – 2 times,13sc (22)
Round 6: in each st around (22)
Round 7: 2sc,(sc2tog) – 4 times,12sc (18)
Round 8: 2sc,(sc2tog) – 2times,6sc,sc2tog,4sc (15)
Round 9: (1sc,sc2tog) – 5 times (10)
Round 10: in each st around (10)
Round 11: 2sc,2sc in next st,4sc,2sc in next st,2sc (12)
Rounds 12-18: in each st around (12)
Round 19: (4sc,cs2tog) – 2times (10)
Round 20: in each st around (10)
Round 21: (4sc,2sc in next st) – 2 times (12)
Round 22: (5sc,2sc in next st) – 2 times (14)
Rounds 23-28: in each st around (14)
Round 29: (sc2tog,5sc) – 2 times (12)
Round 30: (sc2tog,4sc) – 2 times (10)
Round 31: (sc2tog) – 5 times (5)
FOOTS
skin color
4ch+1ch
Round 1: 3sc in 2nd ch from the hook, (1sc in 1ch) – 2 times,
3sc in next ch, turn the work to continue along the opposite
side of the beginning ch, (1sc in 1ch) – 2 times (10sc)
Round 2: (2sc in each of next 3sc,2sc) araund (16)
Round 3: [(1sc, 2sc in next sc) – 3 times, 2sc] around (22)
Rounds 4-11: in each st around (22)
Round 12: 4sc, sc2tog, 1sc, sc2tog, 6sc, sc2tog, 1sc, sc2tog, 2sc (18)
Round 13: (1sc, sc2tog) – 6 times (12)
LEGS
skin color
Round 1: receiving 15 stitches on the foot
Rounds 2-22: in each st around (15)
cream color
Rounds 23-27: in each st around (15)
DRESS SKIRT
light pink
ch 42, join to make a circle
Round 1: 2ch (2dc in next ch) – 42 times (84dc)
Rounds 2-7: dc in each st around (84dc)
with white
Round 8: hdc in each st around (84hdc)
with pink
Round 9: 84dc
Round 10: 1cc Skip two stitches, 6dc in next st, Skip 2 stitches 1cc * Repeat the same process as the
finish of
Bodice with white
Round 1: 1 dc each chain from the chain structure of the skirt at the beginning of (42dc)
Rounds 2-6: dc in each st around (42dc)
Round 7: 10slst,12dc turn
hangers
Round1: sc in each of next 3 sts turn (3)
rounds: 2-18: 1ch sc in each of next 3 sts (3)
HAT
grey
Round 1: Magic ring and 6 sc into it. (6) Round : 2sc in each st (12)
Round 2: (sc in next st, 2sc in next st) – 6 times (18)
Round 3: (sc in each of next 2 sts, 2sc in next st) – 6 times (24)
Round 4: (sc in each of next 3 sts, 2sc in next st) – 6 times (30)
Round 5: (sc in each of next 4 sts, 2sc in next st) – 6 times (36)
Round 6: (sc in each of next 5 sts, 2sc in next st) – 6 times (42)
Round 7: (sc in each of next 6 sts, 2sc in next st) – 6 times (48)
Round 8: (sc in each of next 7 sts, 2sc in next st) – 6 times (54)
Round 9: (sc in each of next 8 sts, 2sc in next st) – 6 times (60)
Rounds 11-14: sc in each st around (60)
dark pink
Rounds 15-16: scin each st around (60)
grey
Round 17: FLO (sc in next st ,2sc in next st) around (90) Rounds 18-19: sc in each st around (90)
Round 20 : reverse single crochet in each st around
SHOES
dark pink
5ch + 1ch
Round 1: 3sc in 2nd ch from the hook, (1sc in 1ch) – 3 times,
3sc in next ch, turn the work to continue along the opposite
side of the beginning ch, (1sc in 1ch) – 3 times (12)
Round 2: (2sc in each of next 3sc,3sc) araund (18)
Round 3: [(1sc, 2sc in next st) – 3 times, 3sc] around (24)
Round 4: [(2sc, 2sc in next st) – 3 times, 3sc] around (30)
Round 5: BLO in each st around (30)
Rounds 6-8: in each st around (30)
Round 9: 4sc,sc2tog,4sc,sc2tog,5sc,(sc2tog) – 6 times,1sc (22)