Ballerina Doll in Pink Dress Amigurumi Free Pattern
I share Amigurumi free patterns on my website. In this article, the ballerina doll in pink dress amigurumi free pattern is waiting for you.
MATERIALS:
Eyes :10mm
Threads: Gazzal Baby Cotton/ Lanoso Simsim/Patsy Ten
Wire: 65cm by 1.5mm
Crochet: 2mm
Shoes : 5cm
Bead Fiber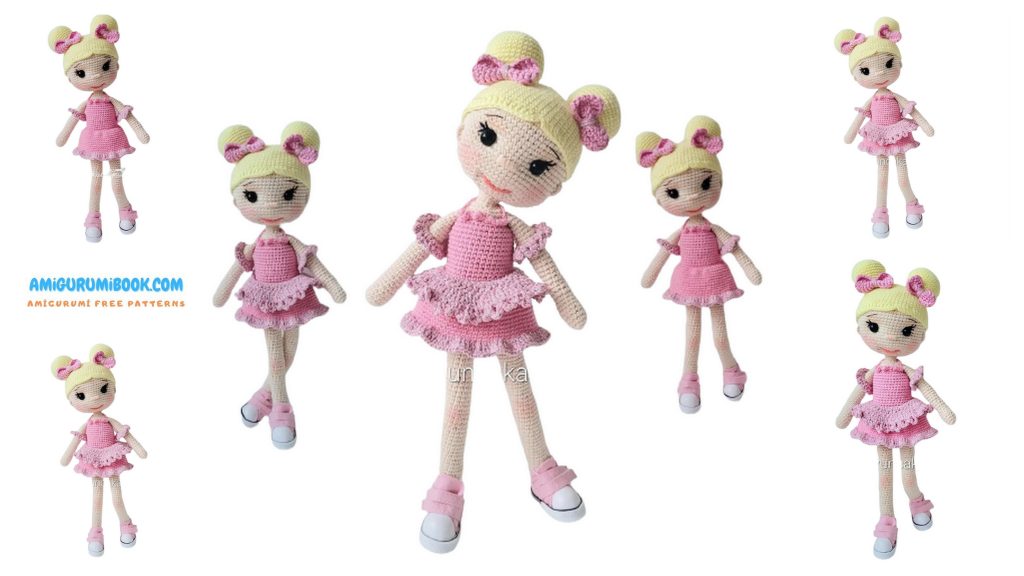 Abbreviations:
ch – chain
sc – single crochet
dec – decrease
inc – increase
sl-st – slip stitch
PATTERN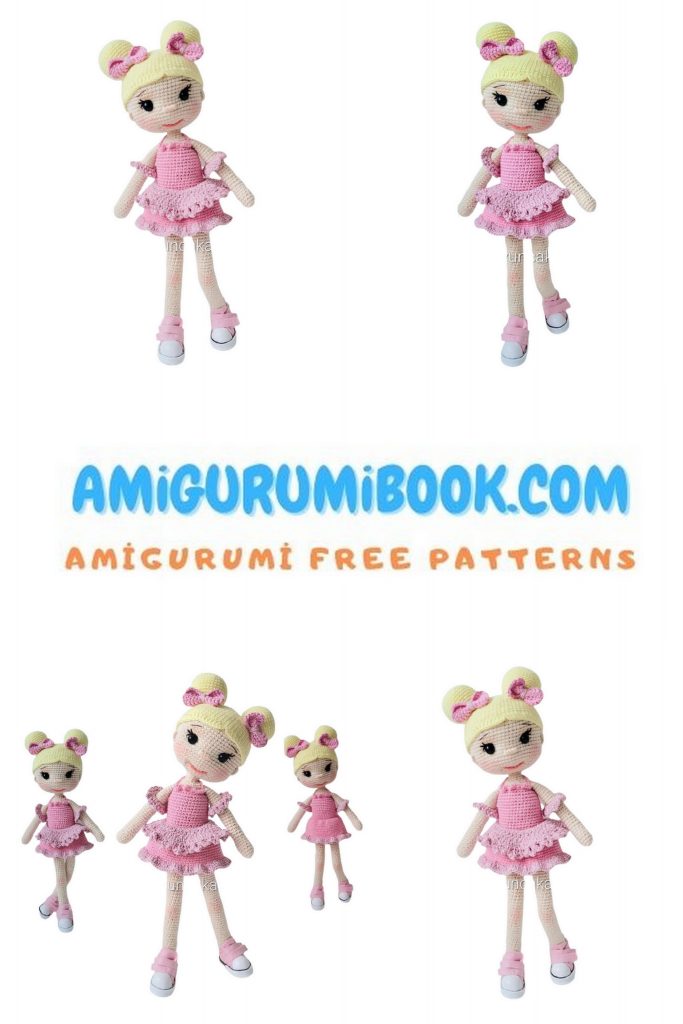 BALLERY HEAD MADE IN PINK DRESS
Magic ring into 6sc
6inc=12sc
(1sc 1inc)6=18sc
(2sc 1inc)6=24sc
(3sc 1inc)6=30sc
(4sc 1inc)6=36sc
(5sc 1inc)6=42sc
(6sc 1inc)6=48sc
(7sc 1inc)6=54sc
(8sc 1inc)6=60sc
14 rows 60sc
(Let's use a 10mm screw eye with 7-8 spaces between the 18-19th rows.)
(8sc 1dec)6=54sc
(7sc 1dec)6=48sc
(6sc 1dec)6=42sc
(5sc 1dec)6=36sc
(4sc 1dec)6=30sc
(3sc 1dec)6=24sc
(2sc 1dec)6=18sc
3sc,1dec, 2sc, 1dec, 2sc, 1dec, 3sc,1dec = 14sc
Let's cut the rope.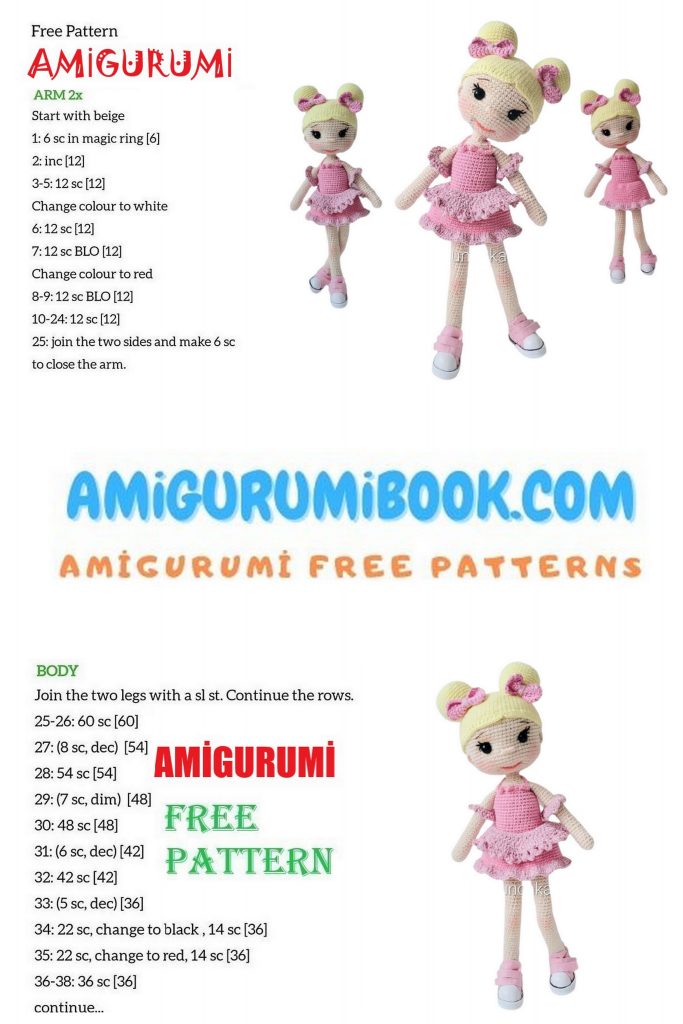 Haired Part:
We apply the same head with yellow color as if we are starting the head for 10 rows. And we continue like this.
(9sc,1inc)*6
11 rows fixed
Tie 15 dc 2 ch sl-st. 2 ch 15dc. This part will go in front of the hair
knobs:
6sc into magic ring
6inc
(1sc,1in)6
(2sc,1inc)6
(3sc,1in)6
(4sc,1inc)6
7 rows fixed
(4sc,1dec) 6
(3sc,1dec)6
(2sc,1dec)6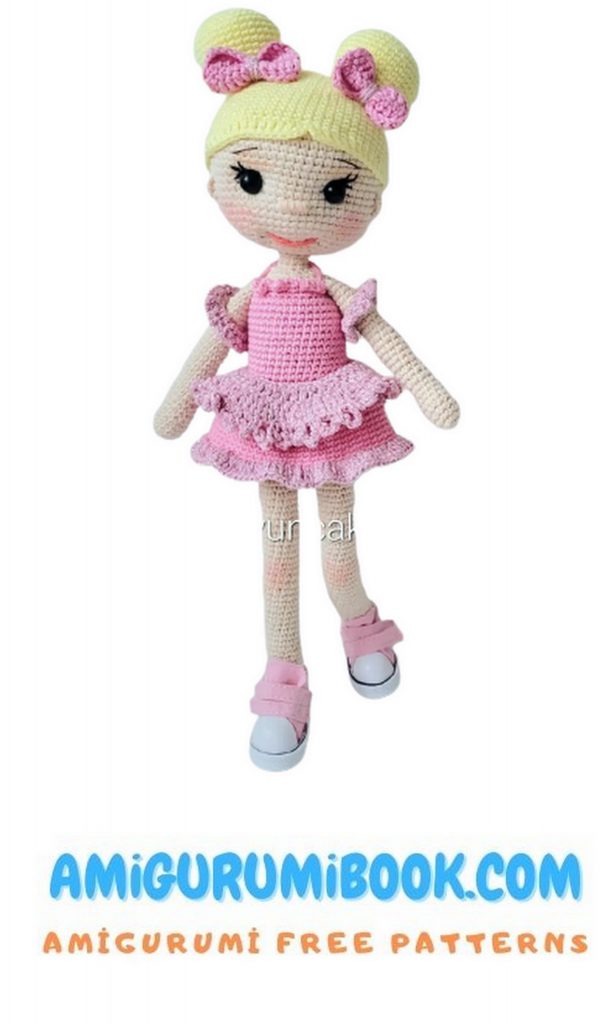 Buckle :
11 dc on 13 ch
back 2 ch 11 dc
back 2 ch 11 dc
Let's wrap a rope in the middle.
SLEEVE
Magic ring into 6sc
6inc=12sc
(4sc,1inc)*2, 2sc =14sc
5 rows fixed
14sc 2dec,12sc=12sc
24 rows of fixed 12sc.
We sew the sleeves to the body with a needle.
LEG BODY
Magic ring into 6sc
6inc=12sc
(2sc,1inc)*4= 16sc
(3sc,1inc)*4= 20sc
2 rows of 20sc 6dec,8sc=14sc
40 rows of 14sc
Let's knit 4 rows of 14sc in both legs with pink color and combine the legs with 4 ch. 14sc right leg, 14sc left leg we will have made a total of 8sc from both sides of the chain. Our torso will be 36sc.
7 rows of 36sc.
We're going to the meat.
1 ch pull back, 2inc as Blo, 1sc across row(60sc) 60sc across 13 rows
We make double dc to each sc with 1 row of silvery rope. (120dc)
We have completed our skirt. We go back to the waist part, 36sc to the flo part of the part we knitted before
14 rows 36sc
1 row 36sc as Blo with tan thread
After that, we make 4 reductions in each row, one from the sides of the body, one from the front and one from the back. We continue until we have 14 sc.
We knit 4 rows of 14sc. The arms are later to the torso. We sew it and add it as a flo after the hanger and frill part. 3ch cekip.batiz frills are formed.
SILVERY SKIRT:
Back to 38 ch 38dc
2 ch back 2inc, 1dc, across row. back 3 ch pull a hole skip along the row.
Thread the ends and tie it around the baby's waist.
PINK SLEEVE :
12 Let's make a link from the chain. Let's draw 3 ch in the middle of the ring and sink. Let's do this until the ring is full.